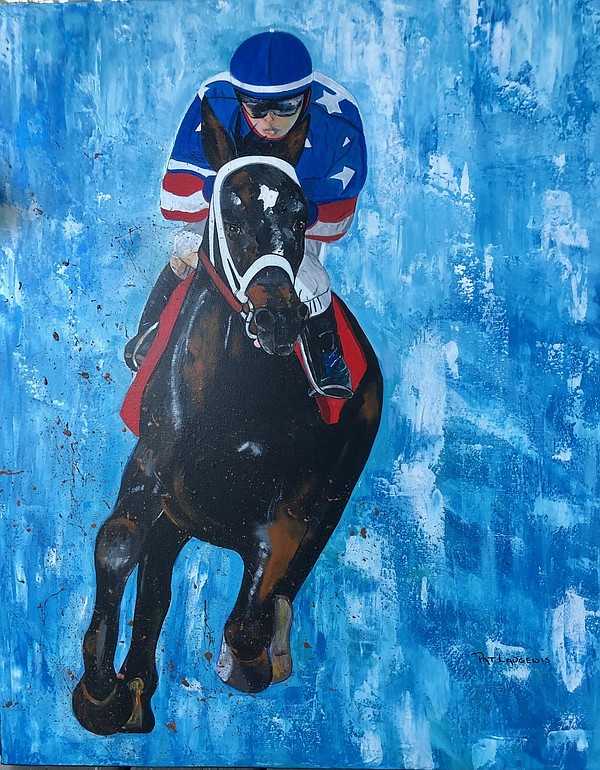 Gallery Walk celebrates its 33rd anniversary with a champagne toast at 5 p.m. today at all participating galleries, according to its sponsor, the Hot Springs Area Cultural Alliance.
Gallery Walk has been held on the first Friday of every month since 1989 in downtown Hot Springs.
The following galleries will be open for Gallery Walk, according to the HSACA Facebook page:
All About Arkansas
610 Central Ave.
Features products from Arkansas, made in Arkansas, and related to Arkansas.
American Art Gallery and Gifts LLC
724 Central Ave.
The American Art Gallery is permanently open from the first Gallery Walk and offers a wide range of fine art and gift items, including the work of gallerist and artist G Gilbert.
"The viewer is most important in creating art, color, and memories of something that brings them joy. Born and raised in Arkansas, the beauty of the natural state gives me plenty to talk about. put on canvas. I enjoy creating landscapes and floral paintings. My work has been collected by clients all over the world," Gilbert said in a press release.
Ernie Bolieu will be on hand to show Southwest Jewelry and discuss design and stones. Bolieu has experience making and repairing jewelry in the South West. Wall art by Jimmy Leach, Margaret Kipp and Carole Beam will also be on display.
Artist studio gallery
610-A Central Avenue
Pat Langewis and Jim Reimer, two well-known artists from Hot Springs Village, are the featured performers for August.
A press release stated that Langewis is a watercolor artist who travels the world and has lived in several countries overseas.
"This experience broadened her view of the world, people and nature. She teaches watercolor on several cruise lines," he said. Langewis is a signature member of four watercolor societies: Southern, Mid Southern, Alabama, and Missouri. His paintings have been accepted into juried exhibitions and hung both nationally and internationally. Since 2020, his portrait, "La Palma Woodworker", has been exhibited at the Barcelona Academy of Arts in Spain. In 2009, she won a major award from the Southern Watercolor Society for her painting "Koi" before the jury of renowned watercolourist Charles Reid.
Reimer began studying art in 1969 in California, studying under the tutelage of O. Lawrence Hansen, "a well-known American artist, for eight years. He continued to study and develop his techniques by attending seminars and studios. He enjoys painting a variety of subjects, primarily in the mediums of oil and pastel. Having lived in California for most of his life, many of his earlier landscape paintings are of the northern California coast and wine country. Reimer has regularly exhibited his work in California and Arkansas and has won numerous awards, including several Best of Show. His paintings are held in private collections throughout the country.
The featured miniature art artists for August are Pati Trippel and Jim Reimer. Call 501-623-6401 for more information. Charlie Mink will entertain visitors with tunes on his dulcimer during Gallery Walk.
The gallery is open from 10 a.m. to 5 p.m. every day except Sunday, from 12 p.m. to 5 p.m. and is closed on Tuesday.
Circle Gallery at Emergent Arts
341-A Whittington Ave.
The opening of an exhibition of Prime Time Painters at Emergent Arts will be presented in the Circle Gallery. The Prime Time Painters are a group of painters who meet weekly to paint as a group at Emergent Arts.
Pottery of Dryden
341 Whittington Ave.
Featuring the work of Richard "Rip" Evans, who began using oil paint as a teenager, in the showroom during Gallery Walk. He attended Detroit School of Art in the mid-1960s, then embarked on a 50-year career as a commercial artist. He continued to paint in oils along the way and today enjoys painting many different subjects ranging from still life compositions to barns and tugboats. He also worked with various printing techniques, including copperplate etching and polyester plate lithography. Due to the formal nature of his oil paintings, he signs them with his first name Richard, and all other works are signed Rip.
Esther's Fine Arts
301 E.Broadway St.
Featured artists include Ryan Rooney, Don Watson, Angelina Hardin, Wayne Summerhill, Justin Warrick and Steve Johnson. To help celebrate 33 years of Gallery Walk, Esther's will be expanding outside with a number of local artists and music by Dean Agus.
center of the gallery
340-A Central Ave.
Located on the first floor of the Waters Hotel, the gallery features works by Janice Polycron, Tracee Gentry-Matthews, Polly Cook, James Hayes glass, Sandy Newburg and Houston Llew Spirit Tiles.
Justus Art Gallery
827-A Central Avenue.
Celebrating its 18th anniversary in August, the Justus Gallery opened its doors on the 15th anniversary of Gallery Walk. August Gallery Walk will present a selection of works by Randall Good, Gary Simmons, Matthew Hasty, Jeri Hillis and Rebecca Thompson. The myth and stories of the personal creation of Work from Good will be presented in the anniversary exhibition. The exhibition includes selections from expert pen-and-ink works by Simmons and bright Southern Hasty landscapes, as well as collages of oil paintings by Hillis and Thompson.
Heritage Gallery
804 Central Ave.
Showcasing a variety of ever-changing artwork from local and internationally renowned artists such as Vangelis, Eva Makk, Americo Makk, Robert Lyn Nelson and Jim Pescott. August Gallery Walk will feature live painting demonstrations by Byron Taylor and new works by Patrick Cunningham.
Ozark Bath
425 Central Ave.
Jeri Hillis, who was Artist-in-Residence at Hot Springs National Park in 2021, will exhibit her work. A reception is hosted by the Friends of Hot Springs National Park from 5 to 7 p.m.
Rebecca Peterman Photography
801 Central Avenue, Suite 30
Located on the second floor of Spencer's Corner, the gallery features fine art photography of the national park and downtown Hot Springs architecture. Also featured is the 50/Fifty Portrait Story Series of women over 50 and how they change as they age.
Whittington Gallery
307 Whittington Avenue
With 50 local artists showcasing their work. There will be drawings throughout the night for up to eight works of art donated by artists from the Whittington Gallery.
Gift wrapped shop
404 Central Ave.
Featuring Alison Parsons of Hot Springs, Riley Art Glass and a wide selection of gift items.