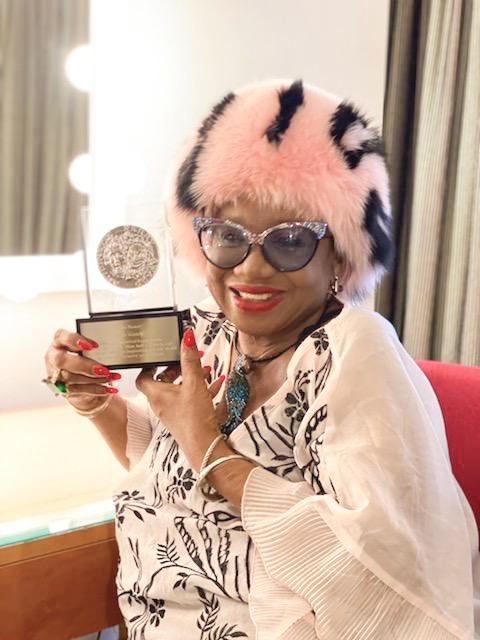 The universe is perfectly aligned when a lady gets her due: Irene Gandy receives the Tony Honors for Excellence in the Theater on Sunday, September 26 at the 74th Annual Tony Awards, to be held at the Winter Garden Theater. Gandy has been with the company for 51 years and during that time she was a press secretary and the only black female member of the Association of Theatrical Press Agents and Managers. Gandy has the honor of being the only publicist with a caricature in the Sardi restaurant. In the 36 years that I have had the pleasure of knowing her and working with Irene, she has always been there for black journalists and always makes sure to get me the invitations and interviews that I request and on the Tony Red Carpet, and consistently brings the talent I need to speak with. Irene has always gone out of her way to ensure that the black press is hosted and this has always been a very vital thing.
During her 51 years, Gandy was also a producer on Broadway with productions like "Porgy and Bess of the Gershwins" and "Lady Day at Emerson's Bar and Grill", and she co-produced the "Sarafina" national tour of South Africa. South. . Gandy has worked on over 100 Broadway productions and these have included terrific shows like "The Great Society", "American Son", "China Doll", "Fiddler on the Roof" and "You Can't Take It" With You. "
One of the distinguishing attributes that everyone who meets Irene knows is that she is always upbeat, dynamic, and pulls hip. Irene is well known for speaking out and being very direct. It is an attribute that appeals to him for many. Of course, upon hearing about his honor Tony, I had to sit down and talk with my friend. Irene talks about Tony Honor and his breathtaking career, a glorious Q&A follows, please enjoy.
AmNews: Irene, what was your reaction when you heard that you were getting the Broadway League and American Theater Wing Excellence in Drama Awards?
IG: I cried for 5 minutes.
AmNews: What other honors have you recently received?
IG: I was appointed to the Broadway League Advisory Board and the Drama League Board of Directors. Jeffrey Richards and I were the first press officers to join the Drama League years ago.
AmNews: You are the only black female press officer to be part of the Association of Theatrical Press Agents and Managers, what does being part of this group mean, what are its benefits?
IG: I've been the only one for over 50 years. The advantages are a union position. You get social benefits, good medical care, they buy stocks for you, and you have a pension for life.
AmNews: Irene, you started out as a publicist and did that for over 51 years, then took it to the next level and became a producer, co-producing productions like "Porgy and Bess", "Lady Day At Emerson Bar and Grill "and" Sarafina "tour of South Africa, how did you get to know more about this side of the industry? What were the difficulties you encountered while doing this?
IG: There was no challenge. I don't see things as challenges. I don't think about things, I just do them. To be a producer you need money, I never use my own money. To produce is to produce an event. I like being a producer, if I come in as a press officer, things have to be approved. If I am a producer, I can better serve my African American community. I am a community outreach producer because I enjoy doing outreach to the community.
AmNews: Your roots are with Douglas Turner Ward and the Negro Ensemble Company, what were the valuable lessons you learned from your work there?
IG: I still use them today. That I am a negro. Douglas Turner Ward in 1968, he said, "Black that, Black that. He named it Negro Ensemble because you can always go home. I never forget the black press. Black theater is so important. Remember where you came from and remember your foundation because you can always go home. And be excellent at your job. Doug wanted excellence, but you can't have excellence if you don't have a part. He created this space.