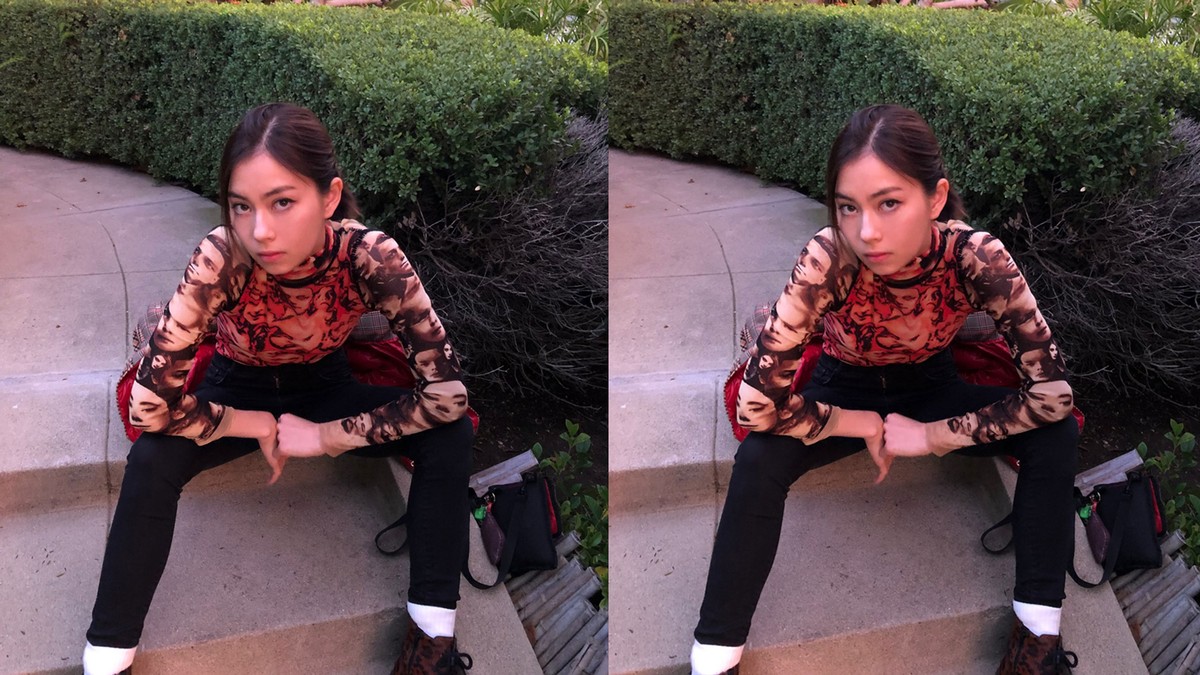 [ad_1]
A little over a month ago, after finishing the promo for his latest Netflix show Moxie, artist and actor Lauren Tsai has left Los Angeles. "Since then, the house hasn't been anywhere," she tells us, "but it really feels good. She stayed in Massachusetts, where she lived as a little girl before moving to Hawaii. It's a place where she "likes how things are". Taking some downtime to reset before heading off for an upcoming acting job, 23-year-old Lauren spends her days drawing and listening to music.
"I'm feeling a lot lighter this year," Lauren tells us. "Much less internal pressure. I think it's the first time that I've really felt my life go by… not in a depressing way, but in a way that makes me want to take care of myself and really enjoy the moment without any expectations. I feel much more connected to the world.
It won't come as a surprise to those who got to know Lauren through Netflix's 2017 series. Terraced house: State of Aloha – on which she first shared her ambitions to pursue an artistic career – that she has a number of creative projects in the works. It is part of an exhibition inaugurated at the Richard Heller Gallery in Santa Monica on August 7 entitled My sweet Doppelgänger, and has an exciting new piece of art right now. "I worked on putting one of my stories on paper," she says. "It's been going through my mind for a few years now, so I'm excited and nervous to see how it goes when I draw it." Lauren's work usually manifests in the form of beautiful spooky scenes depicting her spare doll-shaped figure in landscapes of twisted mythical creatures. It is quite special.
What kind of songs make the creation of such magic, you are probably wondering? We were too, which is why we asked Lauren to make us a playlist of exactly that. Hit play and read on as we catch up with the talented artist.
** Hi Laurent! Tell us about the playlist you curated for iD.
** This is a bunch of stuff I listened to recently while drawing! Or drive. I wanted there to be some sort of theme or flow of emotions between the tracks, but I ended up putting in an array of things that I think reflects what I've been feeling recently in some way. another. Like Playboi Carti and Mitski lol. Do you have a favorite track from your selection? "Adolescent" and "Anniversary of an Uninteresting Event" by Deftones are my favorites right now. The move was bittersweet for me and I listened to these songs a lot while driving around LA on my last nights there. They feel like I'm at the end of something.
How to set up the right environment to create? What does it look like, ring and feel? I like to be alone to work, but I also feel particularly productive when I am around people in a cafe. I missed it during the closings so I spent a lot of time in cafes working. Now that I'm traveling again, my iPad, laptop, sketchbook, and headphones are my constant steadfast. Normally I work at my home office, but it is now in storage. I miss that too. You still miss what happened, lol. I felt at peace there with the things I collected.
And if your art isn't flowing, where do you look for inspiration? The past, generally. I try to unearth things that I haven't fully covered and want to revisit. I think you just have to let your mind go where it wants to. Without judgement. There is always some truth there.
In addition to your work as an artist, you act and have modeled. Do you think your other jobs have influenced your art and vice versa? Modeling has taken me to so many places and put me in so many situations that have taught me who I am. I certainly wouldn't be me right now, doing what I'm doing right now, if the path had been different. By performing and being in the presence of other artists here in LA, I have broadened my view of myself as an artist. Watching people dive into their own world, regardless of medium, has inspired me to believe in my ability to achieve what I ultimately dream of creating. Sometimes my ambitions are clear to me and sometimes they aren't and what's left is just a feeling, but it all makes me feel alive.
** What do you now know about the act of creation, and about working in the creative industry in general, that you wish you had known when you started out?
** Put yourself in everything you do. Even jobs you don't care about and projects you find yourself doing for money or as a way to get somewhere else. Every job is an opportunity to show who you are to anyone. There are a lot of projects to which I would have liked to give more and put my own voice. Also, often I just fill the spaces of my life with art, without anything necessarily touching me. But I think whatever you want to do is worth it. And will take you to amazing things.
Follow iD on Instagram, TikTok, and Spotify for more playlists.

[ad_2]