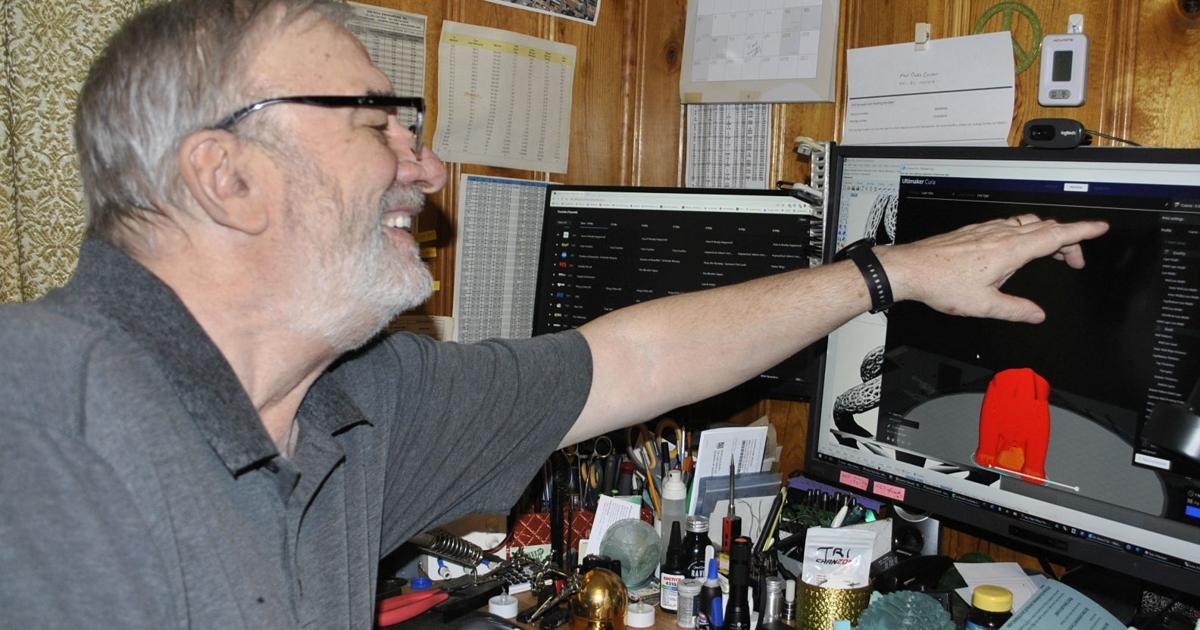 GOSHEN — Local 3D designer Mike Fleury has given himself six months to turn his passion into a business.
"I've been a CAD guy all my life," he said. "It's really my love, doing design work, and I hope I can make it work; sell some of these things and make some sort of business out of it.
About five years ago, Fleury and his wife Marti moved into Marti's childhood home while battling a cancerous tumor that left her paralyzed. Between renovating the house and paying for cancer treatment, Fleury depleted all of his retirement and 401K funds, leaving him unable to retire.
Moving from full-time work as a design engineer to consulting, Fleury bought his own 3D printers from SeeMeCNC in Ligonier to make prototypes for the medical industry. He made little trinkets for his wife to wake up to.
"Every morning he ate something different," his wife said.
Throughout his house are various experimental models in each room of the house. He has given them to family, friends and nurses, but continues to earn them.
"A few months ago I decided to try to sell this stuff," he said. "As an R&D specialist, it is common knowledge that only 10% of products reach the market. It's good and I could go back to doing that, but I really like doing that and hope to make a business out of it.
"I thought I could continue advising and working for companies on their products, or I could try doing it myself," he continued. "I thought I was going to give it a shot for, I don't know, six months, and see what happens and if not, I'd just go back to being a consultant and designing other people's stuff for monthly contracts and that sort of thing. things.
Fair Oaks Design, Fleury's 3D printing company, offers products ranging from lamps to rockets, birdhouses to candy dishes, and more.
"There's no limit to what you can do if you use your imagination," Fleury said.
Aside from the lighting and battery-powered fixtures, each design is a single solid piece with no additional support systems needed.
Fleury said many people who 3D print get designs from various websites.
"Most of them are Dungeons & Dragons minifigures or elves with swords and, you know, that's never really been my thing, so I like to make my own designs."
Fleury also sells his design files so anyone who likes them can recreate them.
"Anyone buying the design file doesn't have to worry about, 'How can I support this angle or this feature?'" he said. I even show them how to buy the lights and LEDs to make their own parts so they can even sell them if they want.
In addition to this, many of the lighting systems used by Fleury are custom designed by him, to fit perfectly into resin or filament structures.
His designs range from 5 to 20 hours to print, but there's also CAD design, wafer programming and more that goes into the actual design process. The products are available on the website and range from $20 to $150.
Custom artistic or industrial projects are available upon request. Gift cards are available.
For more information or to see the products, visit fairoaksdesign.comon Etsy under FairOaksDesignLLC, or follow him on Facebook at www.facebook.com/FairOaksDesign.