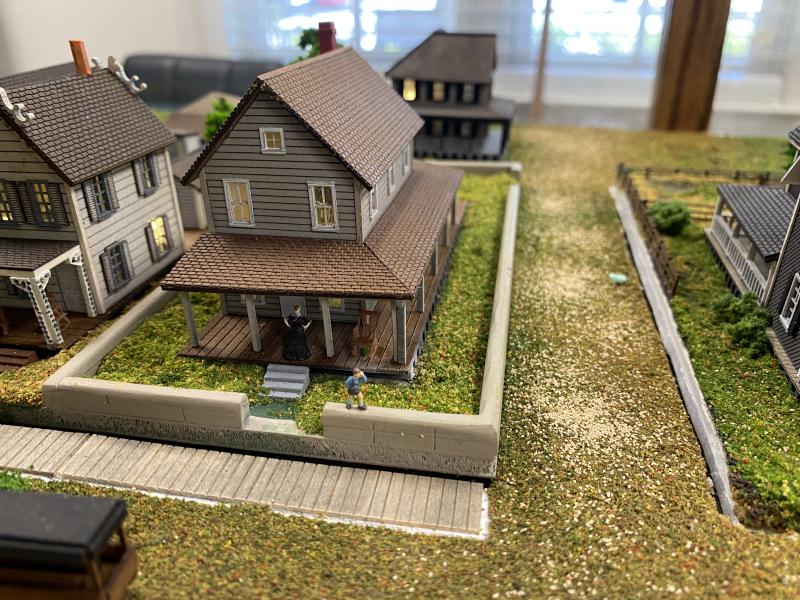 The Phillips Cottage, positioned in 1910 at the northwest corner of Rehoboth Avenue, across Second Street from the present post office, was newly mounted on Paul Lovett's diorama of the railway era Rehoboth Avenue.
Although there are no known photos of the building, the 1910 Sanborn Insurance map clearly positions the structure and provides details about the footprint and character of the cottage. As a child, Ann Lynch (Dyer) often walked past the cottage from her home two doors to the west. She specifically remembers the concrete wall around the cottage, as she would sometimes climb that wall and be warned to come down by Mrs. Phillips. From these details, the chalet was modeled. Ann and Mrs. Phillips are now commemorated on the diorama as shown in the picture.
Phillips Cottage is sponsored by Don Hallowell, whose grandfather bought the cottage in the 1930s. His grandfather was one of the engineers on the train that ran between Georgetown and Rehoboth during the days of the Rehoboth. Hallowell has vivid memories of his visits to the cabin.
The diorama is a multi-year project to recreate Rehoboth Avenue during the railroad era, which spanned 85 years. The miniature village is on display in the Rehoboth Beach Main Street office building next to the Rehoboth Beach Museum. To learn more about the project, visit goldenageofrehoboth.com. By appointment, Lovett holds informal meetings with the diorama at 9:30 a.m. on Mondays, with each meeting focusing on a unique aspect of Rehoboth's history. All are welcome to bring coffee and join in the conversation. To reserve a space, contact Paul Lovett at [email protected] or call 302-893-9391.