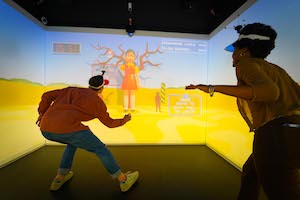 A new immersive experience, based on the hit Netflix show Squid Game, is set to open at Immersive Gamebox locations in the UK.
Guests will be transported into the world of South Korean drama, with players taking part in life-size digital versions of the games, but without the fatal ending.
There are six mini-games, including the famous 'red light, green light' game featuring the iconic giant doll, the 'dalgona honeycomb challenge' and an intense adaptation of 'tug of war'.
From September 21, all four Immersive Gamebox locations in the UK will offer the new experience that uses projection mapping, 3D motion tracking and surround sound for gamers fully immersive in the story.
Will Dean, CEO and Co-Founder of Immersive Gamebox, said: "We are extremely proud to bring the first immersive Squid Game experience to the UK later this year. While the outcome of the game isn't quite as life or death as the Netflix series, the experience will be full of suspense and dark undertones, something we've never had before.
"Playing the games for real in our immersive spaces will make gamers' hearts race and using motion tracking and touchscreens in Gameboxes recreates games in a way that transports you into the world of Squid Game."