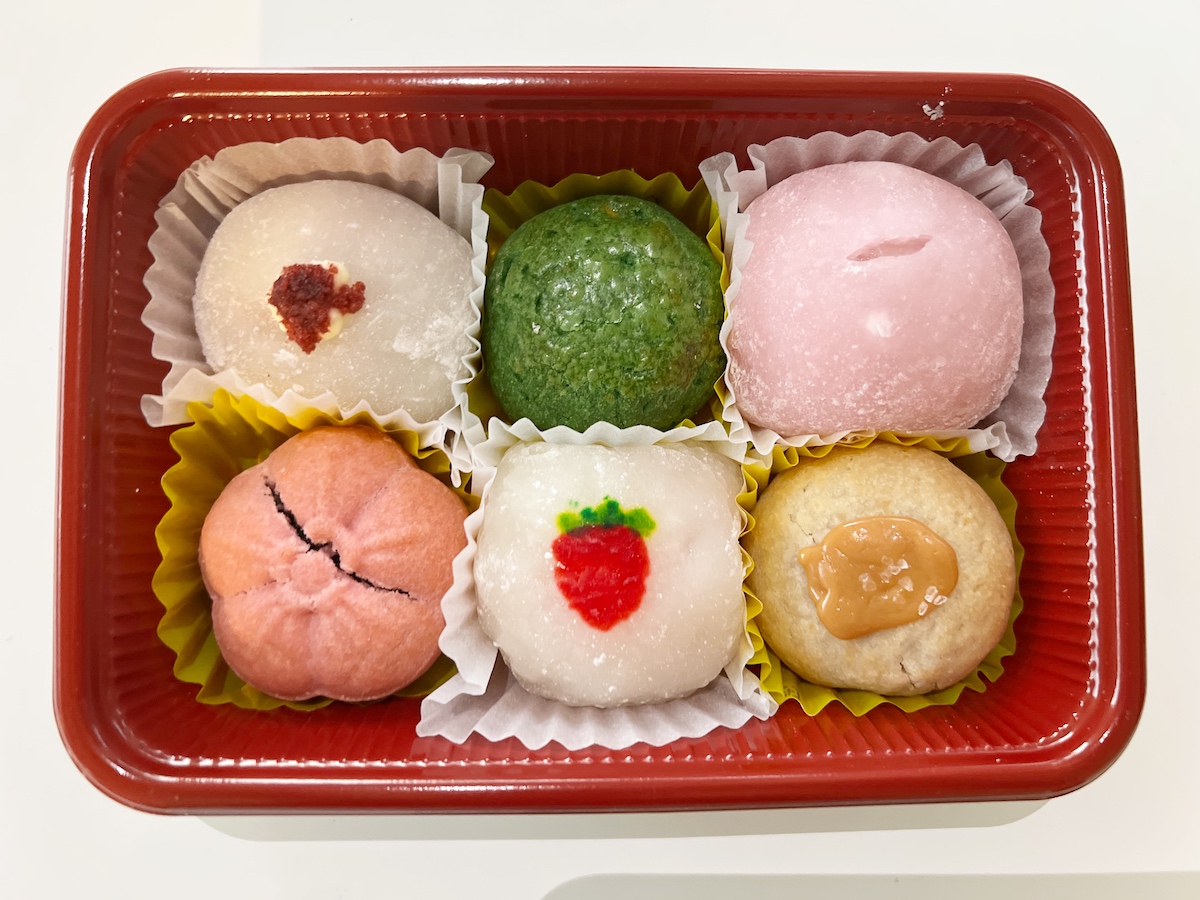 Get your Mochi Girls Day!
Full of malassadas and pancakes that you ate on Mardi Gras? Well, make room for mochi, the sweet Japanese confectionery associated with Girls' Day today.
Girls' Day, or hinamatsuri, is celebrated on March 3, with doll displays, sweet candies, special sushi and, yes, mochi.
---
SEE ALSO: Why do we eat mochi and show dolls on Girls' Day in Hawaii?
---
And if you haven't already pre-ordered, don't worry. Our friends at Frolic Hawaiʻi put together a list of stores on Oʻahu that still sell mochi even today.
If you want something special and tastier, order the Hinamatsuri Mixed Plate ($28) from Artizen by MW. (Yes, you don't have to pre-order!) The plate includes miso-honey glazed butterfish, meatloaf, chicken Jidori nishime, and white rice.
Free Sundays at Foster Botanical Garden—Plus Art!
For the month of March, the city-run Foster Botanical Garden is free on Sundays. Which means you can explore the 14-acre garden with its beautiful tropical trees and plants without paying admission ($3 kamaʻāina adults, $1 for children ages 2-12). Even better, you can see three art installations by artists Ai Weiwei, Leeroy New, and TOQA from this year's 2022 Hawaiʻi Triennial. Prepare a picnic!
---
SEE ALSO: The 2022 Hawaii Triennial kicks off February 18 with works by 45 artists and collectives
---
If you want to learn more about the art featured in the Hawaii Triennial, you're in luck. Beginning Friday, artist and curator Drew Kahu'āina Broderick will hold weekly tours from 1:00 p.m. to 2:00 p.m. in the Hawaii Museum of Art, through May 6. Exhibit staff will also be leading guided tours from 4:00 p.m. to 5:00 p.m. Thursdays at the Royal Hawaiian Center, running through May 6. These walks are ideal for older children who love art.
All ages
Some events are free; all-access pass is $75 for adults, $25 for students with valid ID
From February 18 to May 8
Various locations on Oʻahu
hawaiicontemporary.org
Keep reading!
Reading Day across America may have been yesterday, but the whole of March is still National Reading Month. Instill a love of reading in your children by devoting more time this month to snuggling up with a few good books. There are plenty of great titles in the National Education Association's Read Across America book list on books and reading here. Or check out these 30 books by local authors that are perfect for kids here.
Some other ideas:
Visit your local library. Many have interactive activities and games for children.
Join a book club or start one with your family. If you have teenage readers, encourage them to create one with their book-loving friends.
Create a book exchange in your neighborhood. It can be as simple as putting a weatherproof container full of books you're willing to donate with a sign that reads, "Take a book, leave a book."
Donate books to libraries, charities or shelters.
Try a new genre. Maybe your kid loves superhero books; try a non-fiction title about animals or outer space.
Enroll your Keiki in virtual hula classes
One of the best ways to learn ʻōlelo Hawaiiʻi (Hawaiian language) goes through the hula. And you can register your keiki for an interactive hula series with the Still & Moving Center starting March 6. The 8-week, all-virtual series is led by veteran kumu Mālia Helelā, who speaks fluent Hawaiian and composes her own original. olive (sacred songs). Students will learn both hula kahiko and hula ʻauana, with basic dance steps, hand gestures and mixed (song). The Keiki Hula Spring Series offers two classes: Mondays from 3-3:45 p.m. for keiki ages 3-6 and Sundays from 9:15-10:15 a.m. for keiki ages 7-12. The cost is $165. Learn more or register here.
This Kaimukī bakery raises money for Ukraine
Breadshop in Kaimukī will donate all of its sales on Saturday to support the efforts of World Central Kitchen, a non-profit, non-governmental organization dedicated to providing meals to people in need and currently helping those fleeing Ukraine. Currently, the Saturday menu is sold out online, but the bakery will be adding more items that day. Visit exploretock.com/breadshop to order.
Visit a (kind of) new farmer's market in Kāneʻohe
After nearly two years, the popular bi-weekly Windward Mall Farmer's Market returned to the mall last month. The refreshed market, now run by Plenty of Aloha, features dozens of local farmers and food vendors selling everything from fresh vegetables to smoked fish and poi. The market takes place from 2:00 p.m. to 6:00 p.m. on Wednesdays and from 10:00 a.m. to 2:00 p.m. on Sundays in the central courtyard of the mall. Some must-visits are Hiro's Smokehouse, with its great ʻono poke and smoked marlin dip, and Da Mochi Guys, with its handcrafted stuffed mochi. For more information, go here.
Free swimming is back at municipal swimming pools
All regular pool activities, including free swimming, are permitted at municipal park pools starting this month. Availability of pools and programs offered depends on staff, especially pool lifeguards, and pool conditions.
---
SEE ALSO: 8 We Tried: We're Looking For The Best Public Pool On O'ahu
---
Currently, several pools remain closed, including Waipahū, Pearl City, and Waialua, with intermittent closures at parks in the Pālolo Valley District. However, Waipahū Pool is expected to reopen this summer and Waialua Pool is expected to reopen by the end of March 2022, according to pool supervisory staff. For more information on pool locations and pool planning staff contact information, visit here.