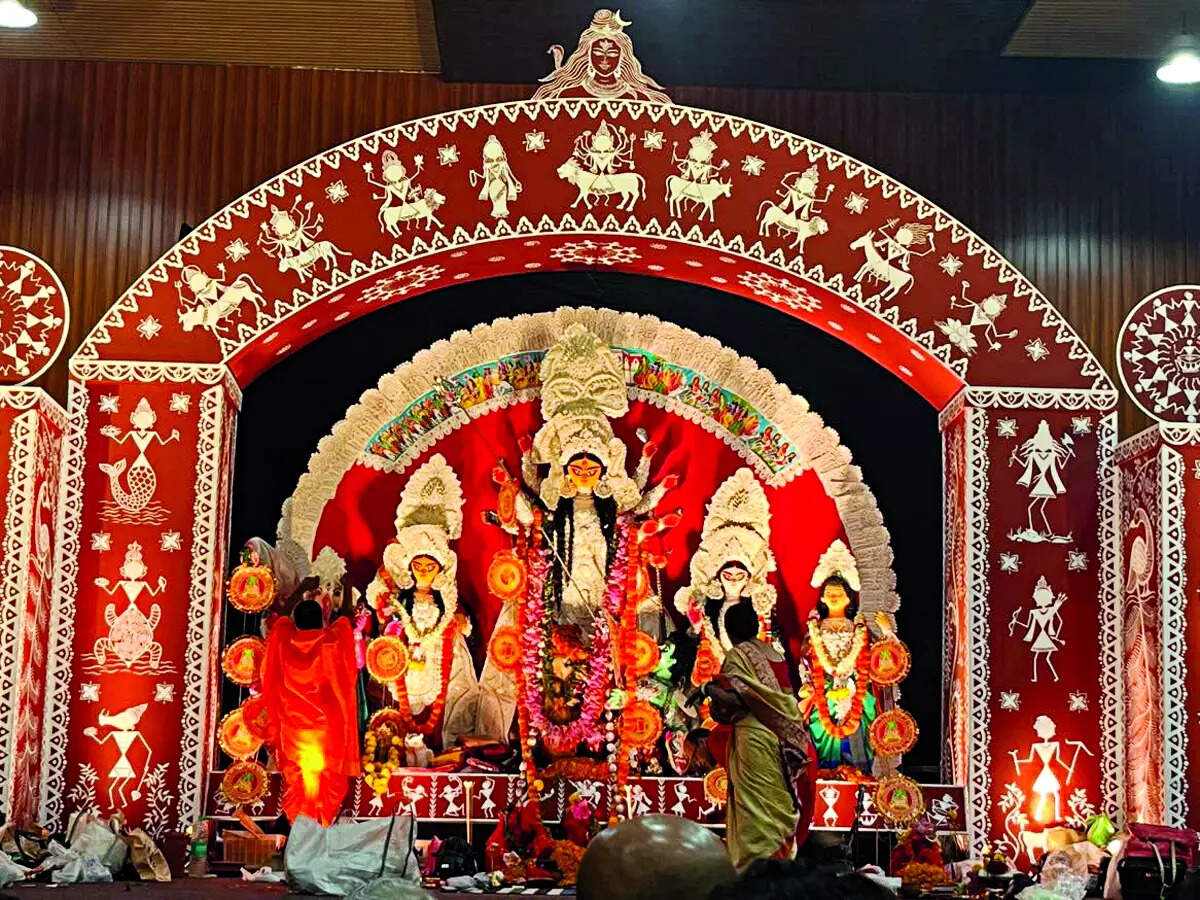 Age-old traditions such as Ram Leela and Raavan Dahan are now making their way to the town houses
This Dasara, Bengaluru will have a touch of North Indian style festivities as apartment complexes have planned to hold Ram Leela and Raavan Dahan on Vijayadashami. Usually, Raavan Dahan – where an effigy of Raavana is burned – is very popular in northern India, and now this tradition is catching on here too.
Jitesh Tibrewal, a finance professional, said: "We at Prestige Tranquility, a housing complex of around 2,500 houses in Budigere Cross, have scheduled Raavan Dahan on Sunday where the effigies of Ravana, his son Meghnad and his brother Kumbhakarna will be burned to mark the victory of good over evil. Before Raavan Dahan, we planned Ram Leela.
The 10-day Dasara festival is the culmination of various cultures and Bengaluru epitomizes it. Thus, while Ashtami was celebrated with fervor by the Bengali associations which offered special prayers and cultural programs on Monday, the organizers of Navaratri and Dandiya said the response to Navaratri was just as good this year.
"For the past two years, the city had almost no Dandiya program. There is high demand for Dandiya but people have not been allowed to gather for the past two years due to Covid restrictions. This year has been the most anticipated event and tickets are selling like hotcakes," said Nitesh S, a Navaratri Program Organizer.
Another resident added that the burning of the Ravana effigies marks the end of Navaratri and the start of a 20-day wait for Deepawali, the festival of lights. This is to celebrate Lord Ram's return to Ayodhya after killing the Demon King.
"For Ram Leela rehearsals, residents dress up to participate in the play which is to play the final episode of the Battle of Ramayana where lord Ram kills Ravana and brings his wife Sita back to Ayodhya on 'Vijayadashami'. According to mythology, Lord Rama killed the demon king Ravana of Lanka on Vijayadasami day," he said.
Some of the apartment complexes said they had to pay artists Rs 25,000 for making effigies of Ravana, Meghanad and Kumbarakana.
During this time, many organize 'Gombe habba' (doll festival). Seethalakshmi Rao, a Bengalurian, has opted for a special theme at this year's doll festival.
We at Prestige Tranquility have planned Raavan Dahan on Sunday and set up Ram Leela before that
–Jitesh Tibrewal, a resident
Usually, these are mythological stories that are explained via the doll festival, but Rao held a special doll exhibition this year where she exhibited Appu dolls. She picked 10 best Appu songs and displayed them via dolls.
The hospitality industry breathes easy

The festivities gave a big boost to the hospitality industry. For the past two years, hotels in Mysuru have struggled to attract customers due to Covid restrictions.

However, this year Mysuru Dasara celebrations have attracted thousands of tourists and Congress Bharat jodo yatra also ensured that hotel rooms were booked.
VS Narayana Gowda, Chairman of Mysuru Hotel Owners Association, said, "Almost all hotel rooms in Mysuru are booked through Dasara and Jodo Yatra. Mysuru has 10,500 hotel rooms and all of them are booked this time. The demand in Mysuru is such that even the kalyana mantaps are booked as some of them have been converted into dormitories.