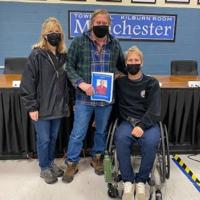 MANCHESTER — "Important business at City Hall on Friday morning," they said. "Meet our lawyers," they said.
Truth be told, it was all a ruse designed to surprise Development Review Board chairman Tim Waker with a very real honor – the dedication of the Manchester Town 2021 report in his honour.
Waker was honored for his years of service to the city as a member of what was formerly known as the Design Review Board (now the Design Advisory Committee), from 1999 to 2003, and the Development Review Board from 2003 to These days.
Walking into Kilburn's meeting room with Planning and Zoning Director Janet Hurley, Waker expected to find a solicitor ready for a meeting. Instead, he found Select Board member Greg Cutler announcing the dedication of the city report, and his fellow Development Review Board members gathered with city officials to congratulate him on his years of service. .
Waker didn't realize until the end of the ceremony that his wife, Sue Waker, and their son, Chris Waker, were also in the room to witness the honor. The young Waker is visiting Vermont for the first time since a serious snowboarding accident in 2020.
Sue Waker, who was part of the scheme, had slipped out of the house earlier Friday morning with Chris under the guise of having coffee. Instead, she pulled into the City Hall parking lot – "There are so many Subarus, so I got mixed up," she said – and took her place in the room. Kilburn for the unveiling.
"He was taken by surprise," Sue Waker said. "Greg Cutler showed the cover and read what everyone wrote. Then [Tim] realized Christopher was there and started crying. It was very moving, but it was a big surprise.
With so many people in the room, Tim Waker said, he didn't see Sue and Chris in the back until the ceremony was over.
" I did not expect that. It was a total shock. It just blew my mind," he said. "Then seeing my son there was the icing on the cake."
Chris Waker, who had been a snowboard coach in Colorado, suffered a serious neck injury in 2020. He lives in San Diego, where he is working on his recovery, Sue Waker said.
"He's okay. He's working really hard to come back," said Tim Waker.
The dedication, presented by the Manchester Select Board, saluted Waker for his 25 years of service to the city.
"Tim has provided a firm hand during the ups and downs of land development in Manchester. Tim listens. His calm manner, low-key style and focus on fairness and accessibility define his public service," reads the dedication." He takes his role very seriously and thinks through every aspect of a board decision, sometimes keeping him up at night, trying to get the best possible results for the benefit of the city. "
The dedication also includes testimonials from other Waker board members.
Council member Ray Ferrarin said Waker's consistent efforts and long memory for past decisions are a boon to council and the city. "His attendance record over many years of service is extraordinary and he very rarely misses an audience," Ferrarin said. "He has a deep historical memory of the many cases reflecting the development of the city and brings that important perspective to his post."
John Watanabe described Waker as "fair, reasonable, rational, and generous with his time". John Kennedy called him a "consensus builder" who works with applicants to meet their needs as well as zoning requirements. And Cathy Stewart talked about Waker's gift for calming debate before it spirals out of control.
"A lot of cases the board hears can get hot, and they're always respectful of questions or comments from an opposing party," Stewart said. "I am amazed at his ability to listen and converse objectively with an opponent, assuring him that he has been heard and understood."
For his part, Waker embezzled credit, saying the entire Development Review Board — and the entire city — had a part in the honor.
"It's not just me, it's the whole board," he said. "I happen to be the one they chose."
"I think our board works really well together," Waker said, saying the members' individual backgrounds and expertise make for a strong team.
"We may all have different opinions at first, but – knock on wood – in the end, we end up agreeing. We all work well together. That's what it is – it's good to having a board that works so well together."
When asked what made him serve the city on board for a quarter of a century, he replied, "I just like to see the city trying to grow in the right direction."
Tim and Sue Waker came to Manchester from Connecticut's Farmington Valley in the late 1970s, raising two children here, Chris and Melissa. Tim worked as a lumberjack for Kevin Beattie and Scott Mayer, did bookkeeping for The Enchanted Dollhouse and worked as a plumber for Bill Herrmann before founding Mountain Plumbing with Kevin Casey.