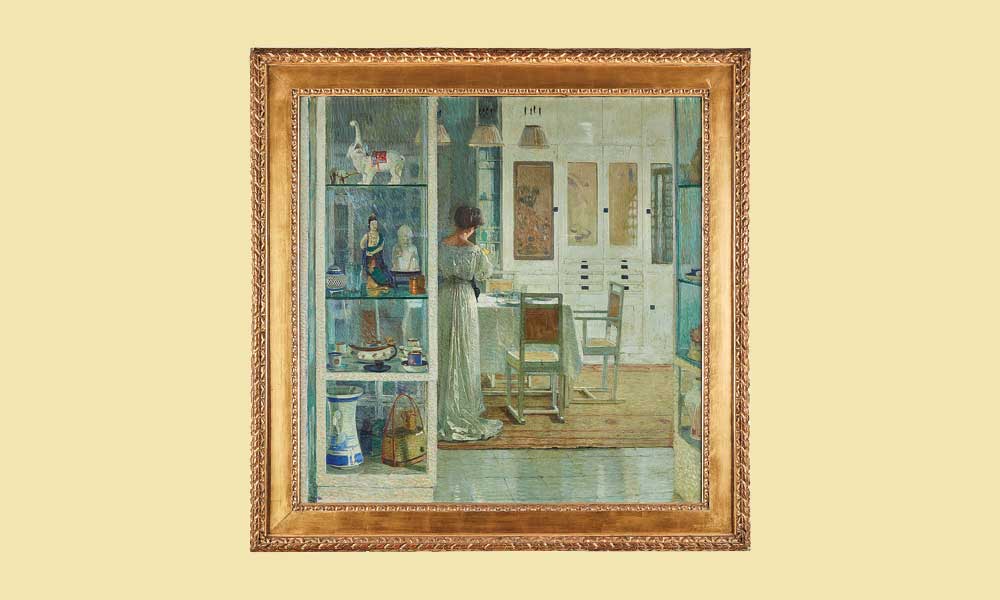 Lgazing into calm from the artist Carl Moll's 1905 White interior feels something like inhabiting the imaginative space on the outskirts of a dollhouse. With its square format, approximately 39 x 39 inches, and the polished gold ribbon of its frame, the painting resembles the silhouette of a turn-of-the-century toy house. You might feel the urge to cross the gap, reach and open a display case, reposition a porcelain teacup, or move one of Josef Hoffmann's painted chairs to the other side of the table. But the viewer, of course, remains beyond the frame of the picture, gazing from afar at the harmoniously ordered room where
the diverted figure of a woman in a white dress – the journalist and salonnière Berta Zuckerkandl – arranges yellow flowers in the barely visible stain of a blue vase.
From November 11 to February 13, 2023, the painting will be part of the exhibition at the Neue Galerie in New York
20th anniversary exhibition, The Ronald S. Lauder Collection. Until its auction in 2021, White interior was known only from a black and white photograph taken at an exhibition in 1905; the painting itself was thought to have been lost. Although a second, more polychrome portrait of Berta Zuckerkandl by Moll in the same frame is known to be in a private collection, White interior had not been on public view for over a hundred years. Today it is one of the highlights of the museum and has been called a "total work of art", what the Germans call a Gesamtkunstwerk, because of its orchestrated composition, its simplified chromaticism and the structural clarity of the squares and rectangles defining its frame. Early viewers might have thought that the serenity rendered in the Zuckerkandl apartment – ​​a cultural meeting place and living room on Nusswaldgasse, the main street in Döbling on the outskirts of Vienna – would last forever. But a work of art has many lives, and the heavy legacy of the Nazi period has injected an element of dissonance into the painting that could not have been foreseen by either the Austrian Catholic artist or his Austrian Jewish subject.
Carl Moll was born in Vienna in 1861 and died there in 1945. As a young artist he was mentored by landscape painter Emil Jakob Schindler. When Schindler died, Moll married his widow and adopted his two daughters, Alma and Grete, before giving birth to their own daughter, Maria. Later, thanks to Alma, who married Gustav Mahler, Moll became close friends with the Jewish composer and, in fact, sat with him on his deathbed and took a mold of his death mask.
In the spirit of the times, Moll became part of a group of progressive Viennese artists that included Gustav Klimt, Josef Hoffmann, Koloman Moser and Otto Wagner, all aspiring to connect Austrian art with modern artistic trends in Europe. . In White interior you can see Moll incorporating the shimmering surfaces of
The rivers and canals of Jean-Baptiste-Camille Corot, the complex texturing of Whistler Symphony in White No. 1, and the coated brushstroke and ambiguous perspective of the Neo-Impressionists. He was a founding member of the Viennese Secession movement, with its motto "In time its art, in art its freedom". Secession artists were inspired by Art Nouveau, which emphasized proportionality as well as organic shapes and lines, forcing a break with what they saw as the over-the-top, highly ornate artwork that had become popular in the academies. Moll was also a founding member of the Wiener Werkstätte, a group that aimed to unify the fine arts with Austria's decorative arts and its preeminent craft tradition, incorporating modernism in all its facets.
Design.
Many of the benefactors of the secessionist movement and the Werkstätte came from prosperous Jewish families in Vienna. They were insiders and outsiders, grateful for the stability of the Austro-Hungarian Empire, extremely sensitive to their neighbors' response to their difference. Many of them embraced modernism because of its connection to Western liberalism and traditions of tolerance. When Moll painted Berta Zuckerkandl, a prominent Jewish figure, in his fashionable apartment in Döbling, he portrayed one of the most eloquent defenders of modern Viennese art, someone who tirelessly defended the new ways of his journalism and his cultural criticism for liberal newspapers. By painting Zuckerkandl wearing a loose-fitting Viennese "reform" dress (albeit with a cinched waist), Moll was promoting Werkstätte fashion, which valued freedom of movement as opposed to the tight, bulky crinolines of earlier years. . By painting it in the intimate setting of his living room, filled with cabinets, tables, chairs and hanging lamps designed by Hoffmann, he highlighted Werkstätte furniture as well as the fundamental concept that design and art must mutually reinforcing, both springing from the principles of utility, proportionality and formal harmonies.
Berta Zuckerkandl was 41 and highly respected in Vienna when Moll painted White interior. His father, Moritz Szeps, had come to the city from Galicia to study medicine, but soon recognized that journalism was his talent. He was most famous as the editor and publisher of Neues Vienna Tagblatt, Vienna's largest and most widely circulated liberal newspaper. From the age of 16, Berta had been her father's secretary, accompanying him abroad and keeping a written record of his secret correspondence with the young liberal Crown Prince Rudolf, which he published anonymously. Berta's husband, Emil Zuckerkandl, was a prominent professor of anatomy, and her older sister, Sofie, was married to the younger brother of French Prime Minister Georges Clemenceau. Through this network of journalism, politics, culture and science, Berta was able to bring some of Europe's brightest minds into her living room, ranging from Johann Strauss and Auguste Rodin to Sigmund Freud. In a memoir she wrote at the start of World War II, My life and my story, she recounted the playful days of the 1870s and early 1880s, remembering the antics of her childhood, sliding down the long curve of the balustrade of her parents' beautiful new house or, with her sister Sofie, meeting the composer Jacques Offenbach in their parents' garden. But she saw trouble looming as early as 1884 when her father was imprisoned because the virulently anti-Semitic politician Georg von Schönerer brought a libel suit against him, and then in 1889 when the crown prince tragically committed suicide, wiping out the hope for a more enlightened Austria.
Shortly after White interior was painted, the secessionist group split and this fragile moment of balance between all the arts as well as the balance within Austria's multi-ethnic population began to change. As a result, even by 1910 Berta Zuckerkandl's attention had shifted away from the visual arts and she focused her writings on politics and theater. (Amazingly, she translated 120 plays written in French into German.) One of the themes of her memoirs is her abiding belief that Austria could have been part of liberal Europe had she been able to make her alliance with France. rather than with Germany. As an Austrian patriot, she acted as an unofficial diplomat during World War I and afterwards when the humiliation of defeat and dire food shortages were felt throughout Austria. In the final pages of her memoirs, Zuckerkandl describes what she calls "the last hours of the existence of a free Austria", just before Austrian Chancellor Kurt Schuschnigg delivered his famous 1938 speech announcing that the Austrian President " asks me to tell the Austrian people that we are not ready to shed blood", guaranteeing that Hitler's troops would enter the country within days.
Zuckerkandl was lucky enough to escape to Paris two weeks later and, again, in the spring of 1940, from Paris to Bourges, a city where the Resistance had carried out several successful sabotage missions, finally arriving in Algeria. At the end of the war, in September 1945, she returned to Paris, but, as she wrote in her memoirs, "…meaning had been taken from my life". She was already ill when she arrived and died a month later.
According to his grandson, Emile Zuckerkandl, nine family members were killed in concentration camps during the war. This included Berta's sister-in-law, Amalie Zuckerkandl, who died with her daughter Nora in BełŻec. Amalie's father was a Jewish playwright and journalist, but her mother was a Christian and Amalie converted to Judaism to marry Otto Zuckerkandl, Berta's brother-in-law.
Carl Moll committed suicide five months before Berta Zuckerkandl's death. He had been a Nazi follower during the Hitler era and there is some debate in artistic circles whether he was a lifelong anti-Semite. Some people claim otherwise, saying that he had loved his son-in-law Mahler. Others say he was an opportunist, taking advantage of his proximity to a musical genius. It got even more complicated after his death, when boxes containing the composer's books and scores, some of them open, were found hidden in Moll's house. Had he intended to sell them for his profit? He had, of course, been part of that progressive society of artists and their Jewish patrons which had flourished in Vienna at the beginning of the twentieth century. Had he turned fascist with all his heart, turning his back on the deportations and murders of these Jews? We do not know. In any case, he and his daughter, Maria, and her husband, Richard Eberstaller (vice-president of the Nazi tribunal in Vienna), celebrated Eberstaller's birthday together just as the Soviet army entered Vienna. Apparently Maria baked a pie that day and they threw a party before they took poison together. Two days earlier, Moll had written a letter saying, "I'm falling asleep without repenting, I've had all the good things life had to offer."
How does it make sense that Berta Zuckerkandl, the slim young woman in the flowing white dress, seen from afar in Moll's White interiorended his memoirs with a similar hymn to the beauty that had filled his life, quoting Goethe:
your happy eyes,
everything you've ever seen,
no matter what,
It was so beautiful!
Opening photo: White Interior by Austrian artist Carl Moll, 1905. (Photo credit: Courtesy Neue Galerie)