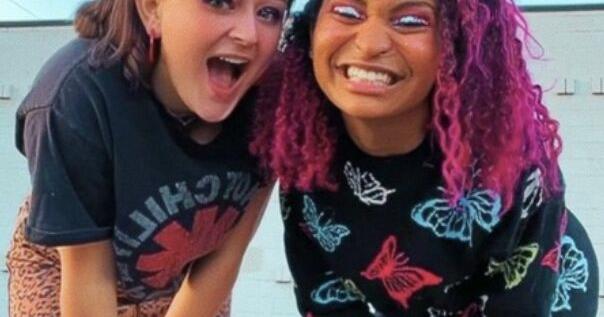 These are not your Barbie or Bratz dolls. Far from the sexy, misshapen, or cutesy features of the toy industry's blended ideals for the female form, American Girl dolls are more lifelike. Dolls can be ordered with physical details that resemble their young fillers.
Through accompanying stories, dolls from different cultural heritages and eras in AG's historical category teach about colonial and slavery times, the Depression, and World War II, among others.
Since 1974, the historic doll collection includes Melody, a black singer who raises her voice in the fight for fairness and freedom, and white child Julie, who stands up for girls' rights and makes a difference.
Island girl of 1941, Nanea, lets the aloha spirit be her guide when fear strikes. Native American child Kaya was born in 1764 and respects and protects the Earth because everyone is connected.
1934 Depression-era Kit Kittredge learns to walk through tough times with courage and gratitude. And Addy Walker, 1864, teaches how to keep love alive in the face of hate and fear.
Anya Steinberg of Kosu.org in Oklahoma City posted "Love at first listen: Early favorites from the College Podcast Challenge" on March 12, 2022. Among the stories was a podcast with two students from Walla Walla University.
Earlier this year, Naomi Pepper and Lindsey Gispert opened up about the starkly different stories of their American Girl dolls. Gispert hosts the Nachomonster 300 podcast, which was shared by kosu.org and NPR on March 12, 2022.
They said their discussion turned to American Girl dolls and the books that came with them on a slumber party.
A "blonde freckled kid" who came of age in English, Pepper found herself obviously drawn to historic American Girl Kit Kittredge doll.
For Gispert, who on the podcast said, "for context, I'm black," there was only one historical AG doll who looked like her — Addy Walker, an escaped slave to freedom.
"It never struck me that there was only one (historical black doll) and in itself that's not great," Gispert said.
"So I read about a girl who looks like me, and I'm all inspired," Pepper said on the podcast. "And (Lindsey) you read about a literally tortured girl."
The women said the historical collection dolls came with a book, story and narrative based on certain time periods, rather than specific characters.
But when Gispert described Addy's story of slavery and escape at the sleepover, she said "everyone's faces in the room went down."
Because for context, Kit Kittredge was a writer-reporter who follows a series of crimes in his town. The story is kid-friendly, "very 10-year-old little escapades," Pepper said.
"And hearing that Lindsey here was reading about runaway slaves is so intense in contrast to our little books," Pepper said.
The Felicity doll, for example, raises horses. "A horsewoman versus an escaped slave," Pepper said.
They examined the violent content of the dolls' stories.
In Kit Kittredge, thieves chase children through the woods to a bum camp. After a brief fight, they hit a shovel on the head of one of the bad guys.
"And that's it, very kid-friendly," Pepper said.
Then Gispert read the violent content of his story, "and it's very disturbing".
Addy sees her father and brother chained up after their sale. She is whipped for refusing to leave her father and says her back feels burned. She gags and chokes when an attendant sticks tobacco sphinxes in her mouth, then slams her to the ground after she accidentally leaves worms on a tobacco leaf she was cleaning.
"These are radically different descriptions of the violence in each of these books," the students said. And, the books are rated for readers ages 5 and up, according to the AG's website.
In discussing what they read in their youth, they realized that they would only have read material provided by their parents, which might not have been so broad in topics and other cultures.
They also said they didn't really think about diversifying their reading when getting books from the library. But the authors will write about the story for children at a level they can understand, Pepper and Gispert said.
"I could have learned more about your culture growing up and become more understanding and compassionate," Pepper said.
Moral of the story? Their response: "Diversify. Especially your children's libraries. Don't think they aren't smart enough to handle bigger, more complex stories.
As an aside, local public libraries have a comprehensive list of recommended books for young readers to learn about their world, their history, and each other.
"Children are so impressionable. Develop empathy while you can. Honestly, don't let them grow up without any of this stuff in their back pocket," Gispert and Pepper said.
They concluded by acknowledging that there is now much more diversity in AG dolls. "Good for them. Good for the girls," they said.
And the diversity continues with AG dolls. They released Corinne Tan, the 2022 American Girl Doll of the Year. She is of Chinese descent, a first for the Mattel-owned company. Girl of the Year dolls from more recent years have been available for purchase for two years.
A serious downside to the affordability of AG dolls is their high cost, which can run into the hundreds of dollars once clothes, books, and other accessories have been chosen.
But with plenty of clothing and book options, kids can choose skin, hair and eye color, freckles, face shape, hairstyles, glasses, hearing aids and more. details to make the dolls look more like themselves.
Personally, I'd like to see a representation in the historical doll category of the unsung black women, human calculators (before computers), who worked at NASA in the 1940s, especially mathematician Katherine Johnson, whose calculations of orbital mechanics at NASA were critical to the success of America's first crewed spaceflight, as written in the eponymous book and film, "Hidden Figures."