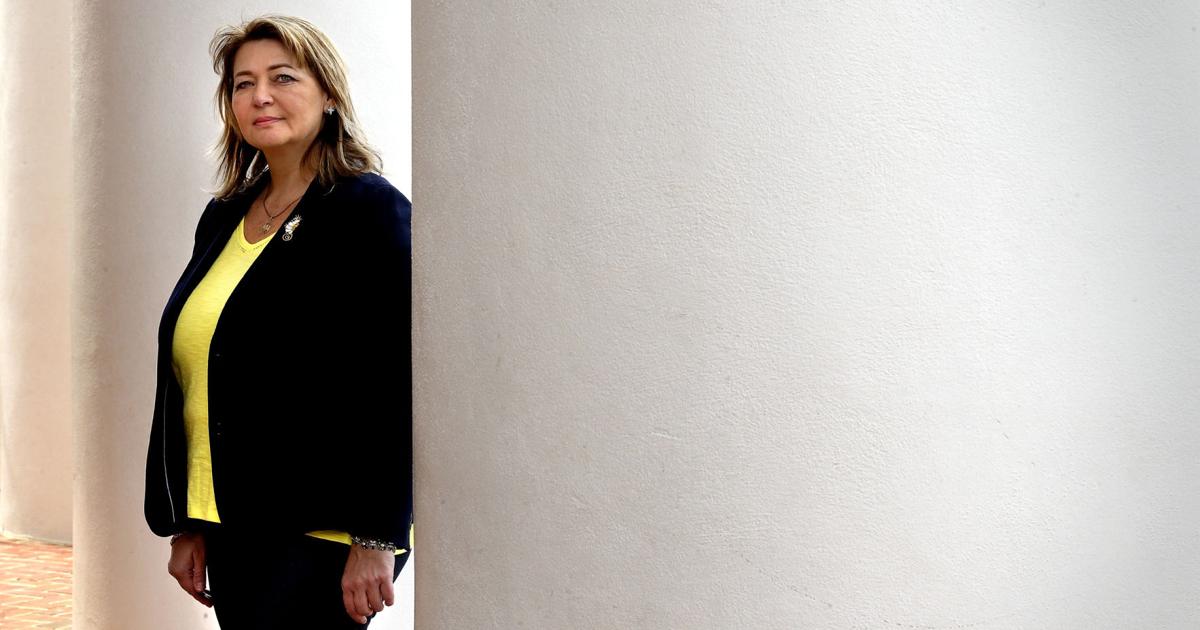 WINCHESTER — Just because someone is from Russia doesn't mean they support the war in Ukraine, two local immigrants hope the Americans will understand.
Polls have indicated that around 60% of Russian citizens support President Vladimir Putin's invasion of Ukraine, while more than 34% do not.
"Not all Russians feel the same as Putin," said Angelika Swift, from Ukraine.
She should know. Her close friend, Irina Galunina, is from Russia.
"The Russian people living here (in the United States), we are shocked and ashamed of what is happening," Galunina said. "We hate what's happening."
Many Russians who support the war have been brainwashed by propaganda they have seen or heard in government-controlled media, Galunina said. Some who say they support him may not, but are afraid to voice their opposition due to limits on free speech there, she said.
Swift and Galunina have lived in the Winchester area for over 20 years. They were moved by how concerned Americans are about the fate of Ukraine and the well-being of its citizens as the fighting continues.
"Americans, they pay higher prices at gas stations, and inflation increases" because of the situations resulting from the war, Galunina said. "But they still donate money (to relief efforts) and ask how to donate."
One way to help is to sponsor a fundraiser in downtown Winchester this weekend.
The event is scheduled from 2-5 p.m. Saturday and 1-4 p.m. Sunday in front of Market Street United Methodist Church at 131 S. Cameron St. and in front of First Presbyterian Church at 116 S. Loudoun St. .on the Loudoun Street Mall. .
Sponsors include Collage, a local multicultural club of which Swift and Galunina are members, and The United Methodist Church. All proceeds will go to the United Methodist Committee on Relief, which will send the money directly to humanitarian efforts in Ukraine, Swift said.
Baked goods, including sweets commonly served in Ukraine, will be among the items for sale, as will arts and crafts, including motanka dolls, a common item in Ukrainian households dating back to ancient times.
Now generally used for decorative purposes, motanka dolls were originally believed to protect Ukrainian households and bring them wealth and good fortune. For example, a sick child would be allowed to play with a doll, which would then be destroyed in the belief that the disease would go away with it. After a child grows, a motanka would be placed in its old crib to protect against harm until a new child is born, according to Swift and Galunina.
Motankas are made of rags, yarn and/or plant material such as hay, straw or dried leaves. A spiral rolling process used in their manufacture is associated with eternity and the cycle of life. Needles are not used due to original beliefs that evil thoughts could be sewn into faceless dolls.
Kids will be able to do crafts during the event, Swift said.
Supporters and fundraisers include The Shenandoah Valley Tapestry, the Winchester Chapter of the Embroiderers Guild of America, Sylvan Treasures, Belle Grove Plantation, and Interact, a service club at Handley High School.
"And just friends," Swift said. "It's so kind. Everyone wants to help.
Other people got involved daily as planning for the event continued, Galunina said.
Swift hails from Odessa, a seaport which is Ukraine's third largest city. People of many nationalities live there, she noted.
Although the official national language is Ukrainian, Swift is among the approximately 30% of the country's population who speak Russian as their primary language.
In an interview, Swift declined to discuss at length the ongoing atrocities in Ukraine. They just upset her too much. She has trouble sleeping at night because of "my broken heart", she says.
Galunina mentioned that she had a friend in Kyiv, the Ukrainian capital, who ran to bomb shelters up to several times a day amid frequent air raids.
She is amazed by the resilience of Ukrainian women.
Men between the ages of 18 and 60 had to stay in Ukraine to help fight Russian forces. However, many women have fled with their children to neighboring countries – sometimes on long journeys on foot – to escape the fighting. Galunina remembers seeing television images of women carrying their children, and even pets, on their backs as they fled.
"Ukrainian women are my heroines," she said.
Swift said she would like to travel to Poland to help with Ukrainian refugee efforts there. But she can't due to family commitments. She and her husband, Jeff, originally from Montana, have two children.
"I have to do something to help Ukraine," Swift said. This feeling stimulated the idea of ​​fundraising.