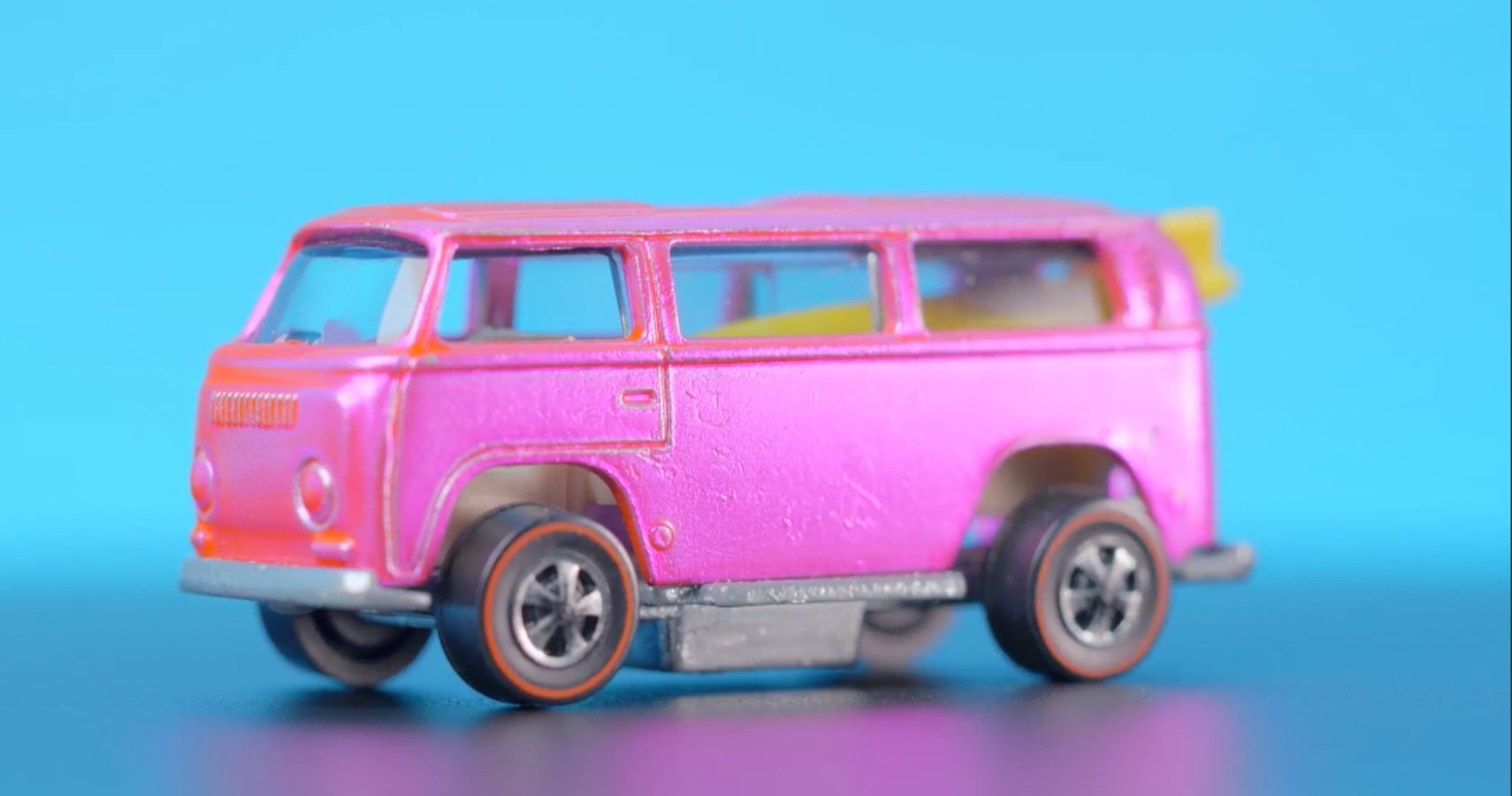 Don't let anyone tell you that the fascination with Hot Wheels collecting is a bad thing. Because if you're anything like Bruce Pascal, owner of the world's most valuable Hot Wheels model, you'd be sitting on a veritable gold mine.
The rear-loading 1969 Hot Wheels Volkswagen Pink Beach Bomb prototype in his collection has been valued at $175,000! You could pick up a brand new 2022 Porsche Taycan for that kind of money. And not even the base model. That kind of money will get you the Taycan Turbo, with options! For Bruce Pascal, however, his interests clearly lie elsewhere. This extreme collector got his first Hot Wheels when he was seven years old and is now sitting on a collection valued at millions of dollars! He even posted an NFT of his most prized possession for people willing to share his joy.
It's why the Volkswagen Beach Bomb is the most valuable Hot Wheels die-cast of all time, and why a hobby that starts small could lead to big things.
Related: Hot Wheels Fast & Furious Mix 3: All Cars Released
Hot Wheels' Original "Beach Bomb" Was Actually A Failure
First, a little background on the Hot Wheels Volkswagen Beach Bomb prototype. It was designed in 1969 and Hot Wheels had just been founded by Elliot Handler the year before. The Pink 'Beach Bomb' Rear Charger is said to be the first die-cast Hot Wheels made from the Volkswagen Microbus. It was painted pink in an effort to appeal to girls as well, because until then Hot Wheels had clearly been a boy's toy. Interestingly, the Hot Wheels founder's wife went on to create the Barbie doll for girls, cornering that toy market as we know it.
Now, why the original Beach Bomb was deemed a failure is because it proved to be too heavy to race on Hot Wheels tracks. Apparently the way the weight was distributed derailed it – and the car never entered production in this form. Eventually the Hot Wheels Volkswagen 'Beach Bomb' went into production, but in a different design with a heavier bottom that gave it better handling. Of these, only about 150 were made, in other colors.
Only two of the original prototypes are said to have been made in pink, which makes Bruce's model so valuable. It's literally a piece of Hot Wheels history! Of these two prototypes, one has the old design but the redesigned heavier bottom – this is what Bruce currently owns. The other had the lighter lower design, which Bruce also allegedly bought and then sold to a friend for an undisclosed amount.
This Hot Wheels model has doubled in value
Bruce Pascal started collecting Hot Wheels at the age of seven, and several years later decided he had to have the most treasured of them all, none other than the Pink Beach Bomb. In 1999, this dream finally came true. Bruce reportedly bought the car for $72,000. Which, okay, is a lot of money for a Hot Wheels model. But now, just twenty years later, the pink "beach bomb" has more than doubled in value.
Related: The 10 Most Expensive Hot Wheels Cars Ever
Considering Bruce's Instagram account is named after his pride and joy, we don't see him selling it anytime soon. But the extreme collector is giving back to the community with his Hot Wheels museum in Maryland. All of the Hot Wheels cars, sales brochures, action figures, and other memorabilia he's collected over the years are on display here. He even built his home office into a sort of Hot Wheels sanctuary, modeling it after a Hot Wheels track.
How Hot Wheels Collecting Really Works
Like any hobby, like collecting baseball cards or Pokemon. The value of Hot Wheels models is not decided by anyone in particular, but rather by the collectors themselves. It's based on the number of pieces originally produced, current rarity, if they were made in the USA, and their condition. Obviously, Hot Wheels made in limited numbers tend to climb in value over more mass-produced models.
Many vintage Hot Wheels have gone through the buzzer, likely used as toys, greatly reducing their value. What collectors are looking for are well-preserved, scratch-free Hot Wheels. If the Hot Wheels diecast is still in its original blister packaging, that's when you start to rake in the big bucks.
For most collectors though, it's the childlike joy that comes from Hot Wheels as the hot-rod rendering of the cars they coveted after growing up. This is true in the case of Bruce Pascal. But his collection of over 3,500 Hot Wheels is also valued at nearly $2 million and put him on the map. This is a very good upside bonus.